Athletic socks are designed to support athletes and improve their athletic performance while playing. They are made using a multi-functional yarn with sweat-absorbing characteristics and offer compression and maximum impact absorption. Compression socks are commonly used to treat chronic venous issues such as swelling, pain, or pressure due to varicose veins or DVT.
They help treat these ailments by increasing blood flow to the heart and venous pressure. The benefit of compression socks in sports is that they reduce tissue vibration when exercising or playing and help to improve oxygen consumption by increasing circulation. Compression socks cover your legs from the knee down and gently compress them. Their main purpose is to improve blood flow in the legs and prevent blood from pooling. Excessive leg training can lead to stress, discomfort, tension, and poor circulation. Compression socks and compression therapy improve sports performance by increasing circulation and relieving foot discomfort, muscle inflammation, and stiffness.
Read More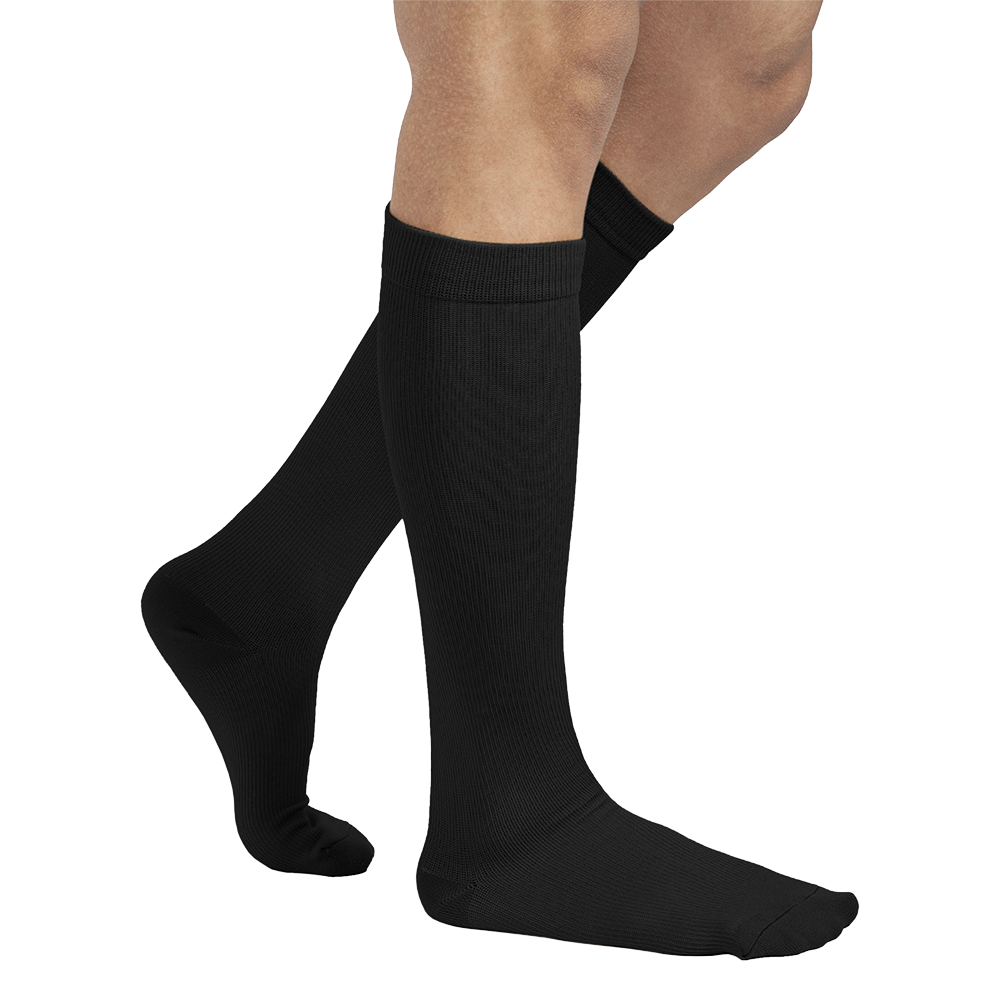 Compression Socks to help relieve pain
360 Relief compression socks are designed to help promote better blood circulation. Its moisture absorbing design helps to keep your feet dry, blisters and avoid odours.
Buy Now
They can be used for medical reasons to relieve pain and swelling in the legs or worn during sports. They are of three types: graded, anti-embolism, and non-medical.
Graduated compression socks have the most compression at the ankle and gradually lessen as you get closer to the knee. Moreover, lower leg swelling is commonly treated with compression socks. On the other hand, anti-embolism socks are a type of compression socks typically worn by patients who are restricted to bed rest for recovery.
Athletic socks don't require professional fitting. Most socks will keep dry from the toes to the knees. They are made of nylon and polyester for greater pressure and compression, which will result in improved performance, less inflammation, and faster recovery. If you're suffering from poor blood circulation in your lower limb, you should wear them to prevent pain and swelling.
360 Relief produce a large selection of compression socks to prevent circulatory issues. These compression socks help to increase blood circulation, support your legs, give a comfortable fit, aid in leg and foot muscle healing, and allow you to resume your daily routine.
What Are Athletic Socks?
These socks are specially designed for athletic events. They help provide athletes comfort during practice or playing a match. They also keep athletes safe from pain and swelling around the feet and legs.
What Is The Difference Between Athletic Socks And Normal Socks?
Athletic socks are capable of absorbing perspiration from the feet. They also help reduce blisters, wick moistures and provide your feet with more comfort. In contrast, regular socks are only made to protect your shoes and feet from odour and rubbing. Another main difference between them is the durability level.
How Do Athletic Socks Work?
Athletic socks are usually more compressed to limit ankle movement, preventing injury. They typically pull sweat away to keep feet and legs dry, to avoid discomfort and irritations.
How Do Athletic Socks Prevent Injuries?
Athletic socks keep your feet odourless and provide your legs and feet with proper pressure and protection. Moreover, they also improve blood circulation. Consequently, you perform well, and the chances of injuries get reduced.
Should I Wear Athletic Socks All Day?
Athletic socks are specifically designed to wear during sports to have a safe sports experience. Experts suggest avoiding wearing athletic socks other than while playing a match because they provide a high compression level.
Zipper Compression Socks
360 Relief compression socks are designed to help promote better blood circulation. Its moisture absorbing design helps to keep your feet dry which helps to minimize blisters and avoid odours.
Buy Now