Do you want to treat Bursitis Knee and reduce its symptoms? For your affected knee, 360 Relief is here to help you provide quality Knee Supports and Braces. Here, you can find a broad collection of knee supports and braces that can help prevent knee injuries and as well as relieve pain and further harm. Our knee supports are available in a variety of sizes, styles, and colours. So, buy any of your desired wrist braces and supports and start feeling the difference in no time!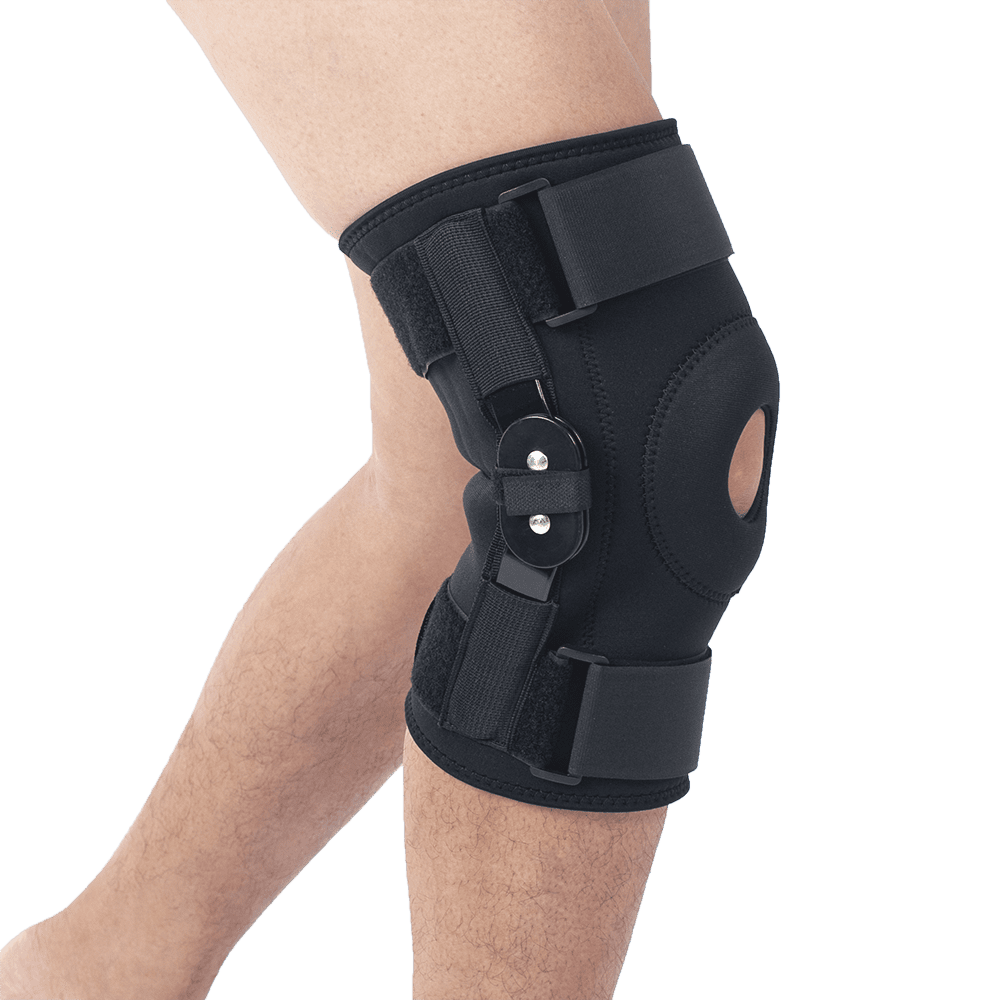 Hinged Knee Brace Support
360 Relief Hinged Knee Support Brace supports and stabilizes a damaged knee and eases pain and inflammation while recovering.
Buy Now
Our knee supports apply gentle yet optimal compression to the affected area of your knee, reducing swelling and inflammation. This targeted compression helps alleviate pain, discomfort and promotes a faster healing process by boosting blood circulation around the knee.
Our knee supports have a mixture of breathable and lightweight materials that promote air circulation, keeping your knee cool and comfortable. Their ergonomic design provides a snug yet secure fit – helps you to use the support for extended periods of time without any irritation and discomfort.
Also, they come with adjustable straps or closures, allowing you to customize the pressure and fit your specific requirements. You can participate in multiple activities while wearing them including exercise, everyday walks, or sports.
However, you can also participate in moderate strengthening exercises to enhance the mobilization.
(Note: For a proper diagnosis and personalised treatment plan for your bursitis knee, visit a healthcare professional as well.)
What is an ideal way to prevent bursitis?
The best and fastest way to cure bursitis is:
Apply ice to reduce swelling
Apply heating pads
Take anti-inflammatory medicines
Use compression to reduce pain
Does knee bursitis last for years?
Knee Bursitis normally lasts a few days or weeks, but it can last for months if it is not treated promptly. If you're overweight, then try to avoid repetitive movements of your knees; it will prevent you from injury and pain.
What foods are good to eat to avoid bursitis?
Try to eat fish, whole grains, fruits, and vegetables. These type of foods will prevent bursitis and repair your joints and muscles. However, always try to avoid food that contains fats and high sugar. You can also take gentle massages that may help you to relax and reduce pain and inflammation.
Can I wrap my knee with bursitis?
You can wear compressive knee braces to reduce inflammation and soreness. Wearing them might help maintain mobility while your injury heals and throughout your physiotherapy sessions. They are made from combinations of metal, foam, plastic, elastic material and straps. They come in many sizes, colours and designs.
Should I walk with knee bursitis?
You can walk, but walking for a long period of time makes the symptoms worse. It is also good to avoid running and walking for long periods while playing. If you do any work which requires standing, then use a stool.
Hinged Knee Support Brace
360 Relief Hinged Knee Support Brace effectively reduces pain and protects your knees from re-injury while providing support and comfort.
Buy Now