Diabetic patients have sensitive feet and are more prone to foot diseases, thus they need to protect their feet more than others. If you are a diabetic patient, there are high chances of experiencing neuropathy and peripheral vascular disease, a type of nerve damage caused by diabetes that commonly affects the feet. However, diabetic socks are made of unique combinations of fabric that protect the diabetic feet from further issues and keep them comfortable all day long.
They can help you reduce the risk of a foot injury, provide proper blood flow, and keep the feet dry. Unfortunately, diabetes causes blood vessels to shrink and reduce the number of nutrients supplied to the feet. The more severe your neuropathy is, the more critical it is to provide adequate blood flow to the affected areas. Many diabetic socks are infused with copper or silver to prevent bacterial growth and infection on the feet.
Read More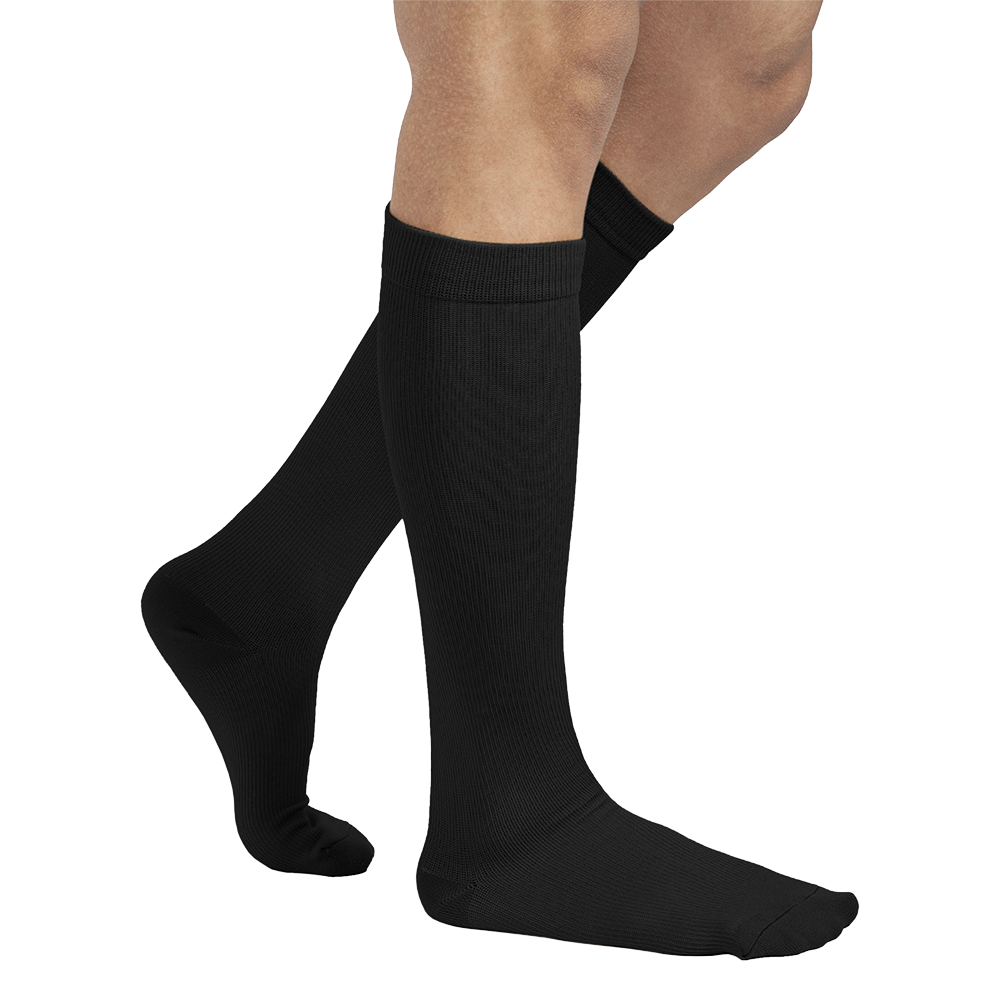 Compression Socks to help relieve pain
360 Relief compression socks are designed to help promote better blood circulation. Its moisture absorbing design helps to keep your feet dry, blisters and avoid odours.
Buy Now
These socks are antimicrobial, but they can also help avoid odours. Diabetic socks are suitable for travel since they can help minimize pain and swelling and reduce the possibility of blood clots caused by prolonged sitting. They are generally thick, which helps prevent and heal blisters, ulcers, and wounds.
People with diabetes usually have poor blood circulation, and their feet cannot receive the necessary blood flow. They may have difficulty recognizing pain or sensing pressure. Diabetic socks can help treat many issues relating to poor blood circulation, pain, and swelling.
These socks protect the foot from wounds and blisters and improve the healing process because of their soft materials. When you wear diabetic socks, you'll notice that you're much more energetic, and your feet are much more comfortable.
360 Relief have a wide range of diabetic socks for diabetic patients. They are soft, comfortable, and can help to improve blood circulation. They are designed with high 3D knitting technology, making the product reliable and durable. They are available in various lengths, sizes, and colours to help you choose your socks according to your needs.
What Are Diabetic Socks?
Diabetic socks are specifically designed to keep your feet dry, reduce the risk of foot injuries, and enhance blood circulation. They are an essential part of foot care, crucial for managing or dealing with diabetic foot problems.
How Do Diabetic Socks Work?
Diabetic socks help improve blood flow by providing warmth without contraction. Because diabetes causes poor blood circulation in the feet, it is essential not to constrict the blood vessels around the feet. They also provide cushioning to help prevent injuries.
Can Anyone Use Diabetic Socks?
Not everyone who has diabetes needs to wear diabetic socks. But, it can provide significant benefits to those who really need them. You should consult your GP to know if you need to wear diabetic socks.
Why Diabetic People Should Not Wear Black Socks?
While wearing black or any dark coloured socks, you may not notice if blood discharges from a wound. This is the reason experts suggest avoiding wearing dark coloured socks.
What Are The Signs Of Diabetic Feet?
The following are the common signs of diabetic foot problems:
Changes in skin colour
Changes in skin temperature
Swelling in the ankle or feet
Pain the feet or legs
Forming of corns or calluses
Zipper Compression Socks
360 Relief compression socks are designed to help promote better blood circulation. Its moisture absorbing design helps to keep your feet dry which helps to minimize blisters and avoid odours.
Buy Now